Napa Valley is synonymous with great wine for good reason. More than 500 wineries and tasting rooms call Napa Valley home, making it a truly luxurious location for any connoisseur. Whether you're visiting the area on vacation or looking at homes for sale in Napa Valley, you won't want to miss these incredible, one-of-a-kind wineries.
Rutherford Hill
Rutherford Hill
is an aptly named vineyard atop Rutherford Hill that has been providing unique tasting tours in Napa Valley since 1972. Known for their work in creating the classic California Merlot, Rutherford Hill has made the most of Napa's beautiful climate and exquisite soil. Now, Rutherford boasts one of the top Merlots in the region. The winery offers an unusual wine tasting experience by inviting visitors to the historic cave on their property. There, guests learn more about the history of the vineyard and the winemaking process. After the guided cave tour, guests indulge in a tasting of five delicious red wines.
The Grgich Hills Estate
Located on St. Helena Highway, the
Grgich Hills Estate
is the legacy of renowned oenophile Miljenko Grgich, who gained recognition for his performance at the 1976 Paris Tasting. In 1977, the Grgich Hills Estate winery was born, and it has grown into one of the top wineries at the heart of Napa Valley. Anyone interested in Napa Valley homes for sale will want to visit Grgich between August and October for their daily grape stomp. Guests who are members of the winery's club can step into a bucket of freshly-picked grapes and stomp away, perfecting a technique that dates back generations. Afterward, they can capture their footprints on a commemorative t-shirt to mark the occasion. Loads of fun, the grape stomp at Grgich is one of the more unique experiences you can have in Napa Valley.
Sterling Vineyards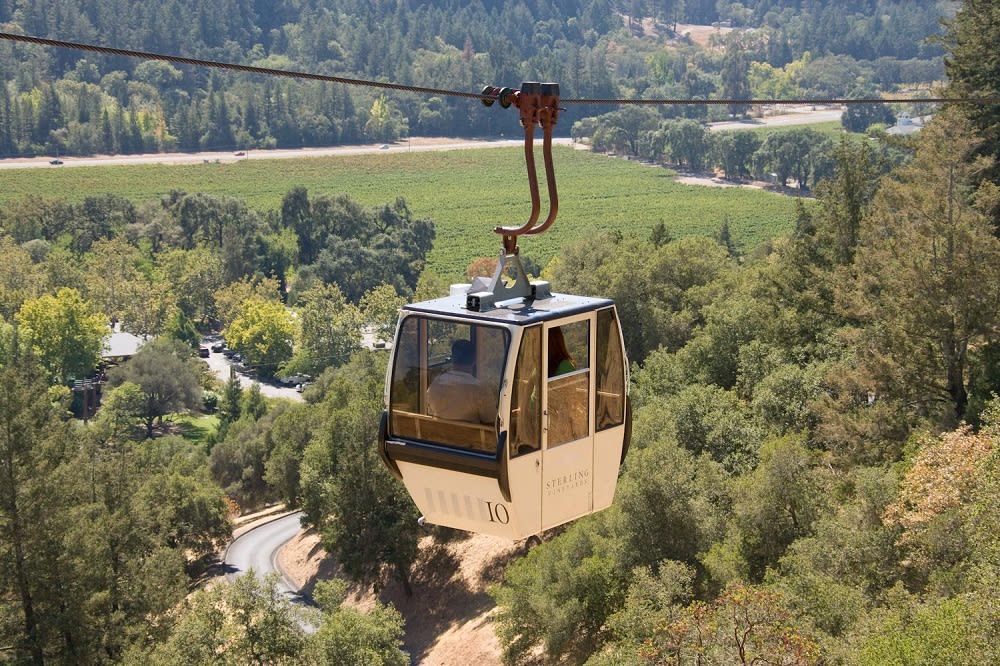 Photo courtesy of Sterling Vineyards
Sterling Vineyards, part of the Treasury Wine Estates, first gained international renown for winning the Ottawa Wine Tasting of 1981. Since then, it's been a staple of the Napa Valley wine community, known primarily for offering scenic gondola rides to members and guests. Currently undergoing repair, the aerial tram will soon resume operation to provide visitors with panoramic views of the surrounding hillsides. Meanwhile, virtual tastings are available for guests. The vineyards span several locations, including the breathtaking Diamond Mountain Ranch and the Bear Flats Estate Vineyard. Sterling Vineyards has many award-winning wines to enjoy and specializes in Cabernet Sauvignons and Sauvignon Blancs.
Domaine Carneros
Housed within a stunning chateau-style estate,
Domaine Carneros
is truly a one-of-a-kind venue. Stepping onto the grounds of Domaine Carneros is like stepping onto a French royal palace, with perfectly manicured gardens and gorgeous mountain backdrops. With impeccable sparkling wines and pinot noirs, Domaine Carneros prides itself on using traditional methods to create unforgettable flavors. Those looking into Napa Valley homes for sale should schedule a trip to 1240 Duhig Road to tour the premises and sample wines on the outdoor terrace. You can choose between cheese and charcuterie boards or top-tier caviar with your tasting.
The Napa Valley Wine Train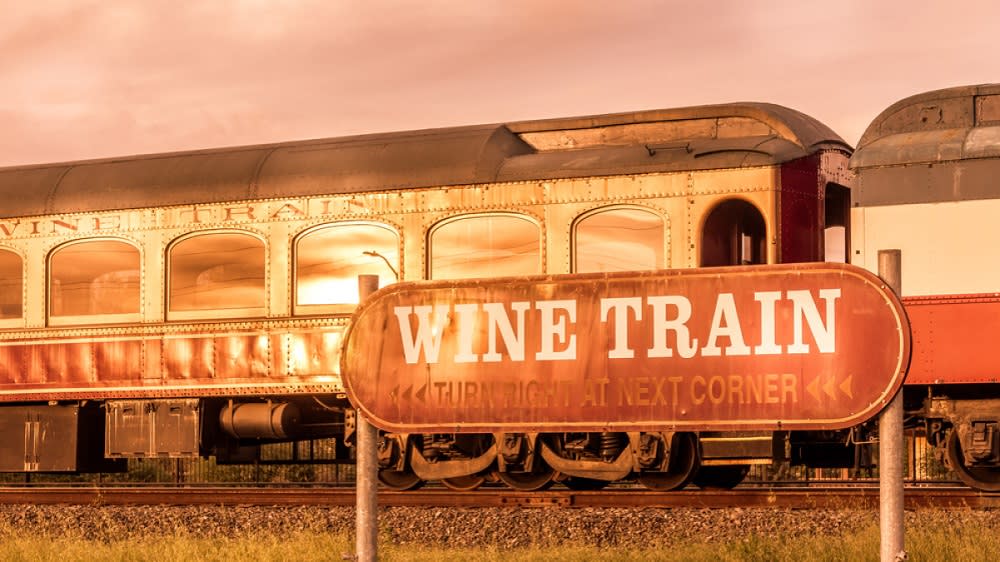 Photo courtesy of Shutterstock
Not a winery per se, but still one of the more unique experiences you can have while browsing homes for sale in Napa Valley, the
Napa Valley Wine Train
takes guests on a 36-mile round trip of the local wine region. Traveling to St. Helena, the train makes several stops at wineries along the trip. Elegant and old-fashioned, the train harkens back to 19th-century travel, with an interior outfitted in mahogany, velvet, and brass. Guests can choose between different experiences, from a two-hour trip that provides a gourmet lunch and stops at the Grgich Estate for an hour-long tasting to the murder mystery experience complete with dinner theater, a multi-course dinner, and a scenic, two-hour ride.
HALL Wines
Also located on St. Helena Highway,
HALL Wines
specializes in Cabernet Sauvignon, Merlot, and Sauvignon Blanc. Each year, the winery takes part in the Festival Napa Valley, a fantastic 10-day event featuring local vendors, live music, and art displays. HALL namesakes Craig and Kathryn Hall have a distinct passion for art and invite guests to explore their selections when booked for a tasting. Guests can see original pieces by artists like Jim Campbell, Nick Cave, John Baldessari, and more. From fine art to sculpture, HALL has a little bit of everything for the wine lover who also has a taste for fine art.
Raymond Vineyards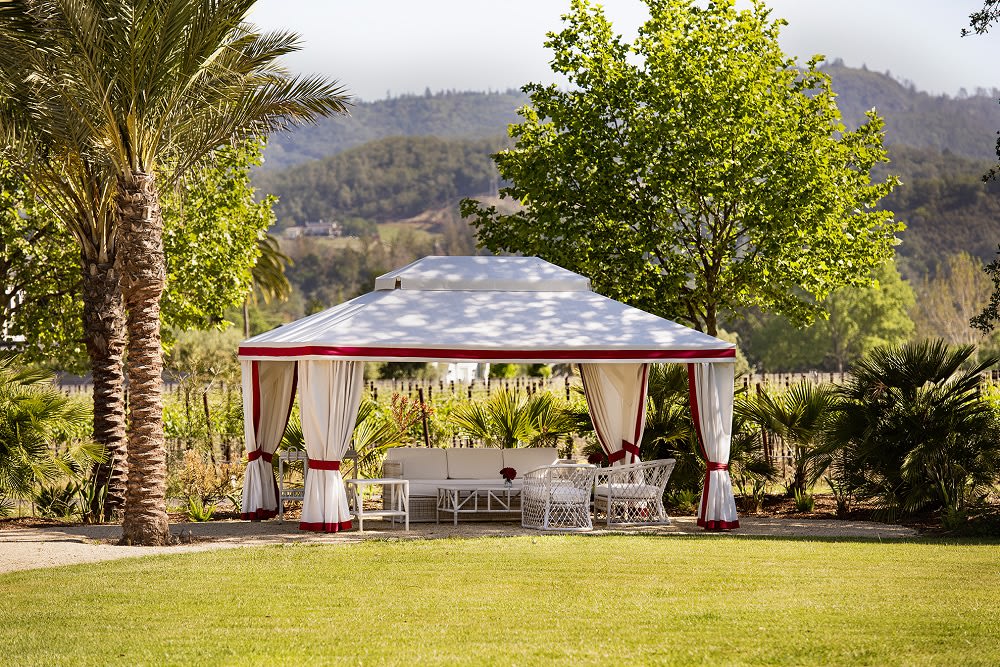 Those searching for homes for sale in Napa Valley can become winemakers for a day at
Raymond Vineyards
, a stunning resort-style vineyard with tasting cabanas and sprawling grounds. In the Blending Room, guests can don their winemaking gear and learn the art of blending. Producing a Bordeaux-style mixture, guests will then bottle their creations, cork them, and stick on a custom-made label. Besides winemaking, Raymond Vineyards offers tastings in their grove oasis and beneath the shade of their many cabanas. Those who want to learn more about the history and workings of Raymond Vineyards can sign up for a private tour and tasting.
Castello di Amorosa
Last but certainly not least on our list of unique Napa Valley wineries is the stately
Castello di Amorosa
. This Italian-inspired winery, modeled after 13th-century Tuscan castles, is known for its impressive collection of reds, whites, and rosés. With over 100 rooms to tour — including an authentic dungeon, torture chamber, and drawbridge — a trip to Castello di Amorosa is a must. Pair the castle tour with a sampling of five of their signature wines, and you've got the recipe for an afternoon you won't soon forget.
Living in Napa Valley means having access to some of the best wineries in the world. Surrounded by rolling hills and budding vineyards, Napa homes have a built-in air of peace and serenity. Those interested in investing in Napa should partner with a real estate broker who understands the particularities of relocating to a region like Napa. Carolyn Roberts is a licensed broker committed to connecting with her clients. Whether they're buying or selling in Napa and its surrounding areas, Carolyn is determined to help them meet their goals. So if you're ready to start exploring available Napa Valley homes for sale, reach out to the best realtor in Napa,
Carolyn Roberts
, today.