Famous for its abundance of stretching vineyards and picturesque scenery, Napa Valley is a wonderful place to call home. A popular spot among locals and visitors alike, the Valley is located in Central California and is renowned for its delicious wine. With its sweeping views and scenic drives, Napa is a top location for an ultra-luxury experience. From the hot air balloon rides to beautiful hiking trails, there are plenty of ways to soak up the outdoors in the valley. Immerse yourself in the exciting nightlife, attend live music showcases, and enjoy world-class shopping from popular malls and charming boutiques.

Whether you are looking for a refreshing spa day or an expertly taught culinary class, Napa Valley is the ideal place to settle down and get to know your surrounding community. Here you will discover an array of gorgeous homes and properties that are certain to capture your imagination and delight the senses. With a diverse variety of architectural styles, you will quickly fall in love with all this lovely valley has to offer.
Common features
Homes in the area share various features, combining the world of old charm and modern amenities. With both pristine convenience and riveting style, Napa Valley homes pride themselves on solar technology. These updated resources have been applied and installed in older homes as well. Another common feature is modern pools and lavish hot tubs. In recent times, smart technology is also being installed. Many homeowners strive to keep up with the latest trends to ensure energy-efficient methods are being utilized. This makes the maintenance and management of a house a smoother process. In Napa Valley, you will likely find many homes with the following characteristics: plenty of glass, the design reflects the outdoor vibe and its surroundings, lots of exposed wood, and, of course, a pool in the backyard.

Drawing inspiration from Californian modernism and local nature scenes, Napa homes are known for being warm and spacious with many contemporary features. However, there remains a great variety in the styles and looks of these beautiful homes.
Colonial Revival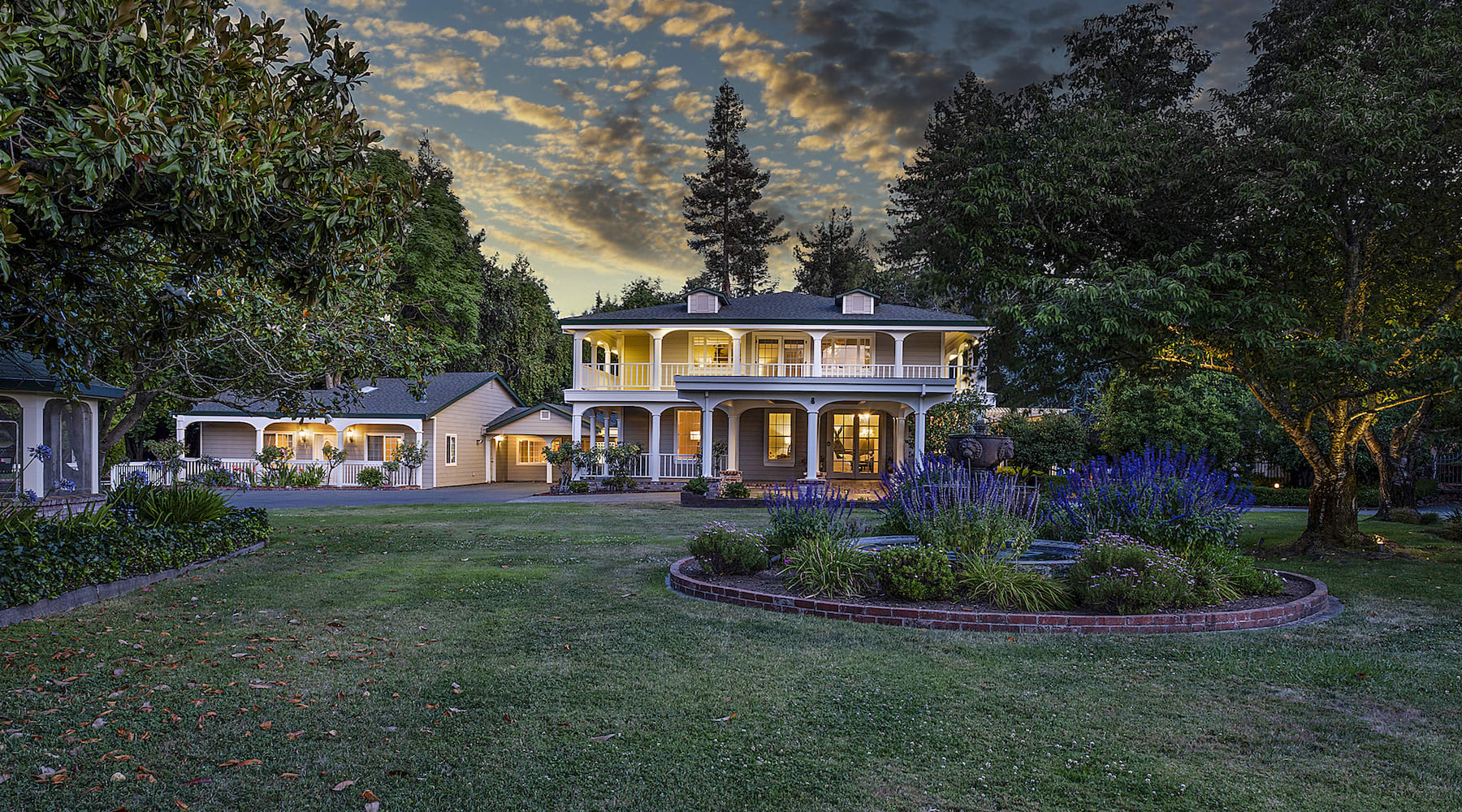 One of the most well-known architectural styles in Napa Valley and the United States as a whole is Colonial Revival. Making a comeback in recent years, this unique style draws its inspiration from history. Paying homage to the years 1880 to 1960, Colonial Revival is one of the most popular and enduring styles. Identifiable features include columned porches and porticos, double-hung windows, and side-gabled or hipped roofs.

From their symmetrical features and neutral color schemes, these houses are a standard two stories tall or more. They also typically have intricate fireplaces, upscale crown molding, and sweeping entryways. Often, these homes have four bedrooms and a finished basement. When you walk through the doors, you will be greeted by a central staircase that is connected to a grand hallway, bedrooms, and a bathroom. The layout is large and perfect for big families, neighborhood potlucks, or social gatherings. Throughout the years, Colonial Revival has modernized its design and construction. This design includes modern features and may include solar panels and smart technology depending on the specific home.
Craftsman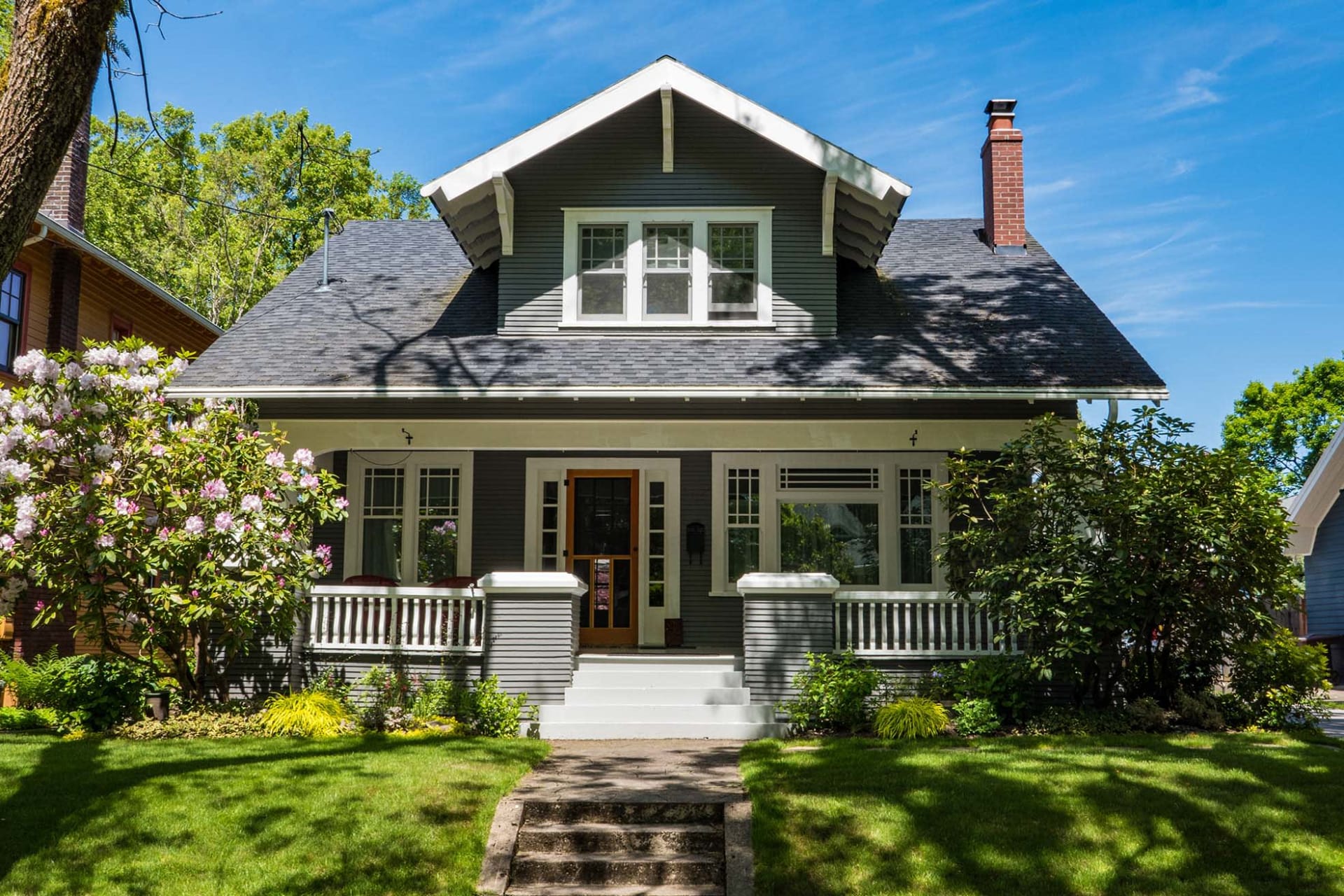 Emerging at the turn of the twentieth century, the craftsman style carries a unique history. It pushed against the then-popular and mainstream Victorian Style and created a new trend in the way houses were designed and built. A favorite in Napa Valley, this style reflects the beauty of the outdoors and pays honor to the ingenuity of human design.

The craftsman style remains highly popular in the United States today. With a wide range of colors and touches of Californian culture, this architecture shares standard features such as low-pitched roofs with overhanging eaves and wide, open porches supported by columns.

These porches provide the perfect spot to hang flowers, chat with your neighbors, or enjoy a glass of cold lemonade on an especially hot day. A standard craftsman house includes large bay windows, and designs may be symmetrical or asymmetrical. Walking through the entryway, you will discover cozy and charming rooms.

From the dining room to the kitchen, each room has a distinct, specific, and practical purpose. You will typically find kitchen nooks or a fireplace that is central to the living or dining room. Additionally, other notable characteristics include extensive woodwork, built-in bookshelves, beamed ceilings, and window seats. Each of these unique features further adds to the personality and charm of the craftsman style. The wide windows let in the sunshine and offer plenty of outdoor access. These houses come in all the shades of the rainbow and have lots of character.
Classical Revival
Also known as Jeffersonian Classicism,
classical revival
homes are based on Roman and Greek designs. They are recognizable by their simple and solemn style. With their tall, supporting pillars and typically symmetrical forms, the classical revival house may be one or two stories tall. Additionally, they are incredibly tall, impressive, and grandiose structures. Windows and doors are arranged formally. The classical revival style is also found in many courthouses, banks, and government buildings. Originating during the American Revolution, these homes were inspired by ideals of freedom and representation in the hands of the people. It is one of the most common architectural styles in the US.
Mid-Century Modern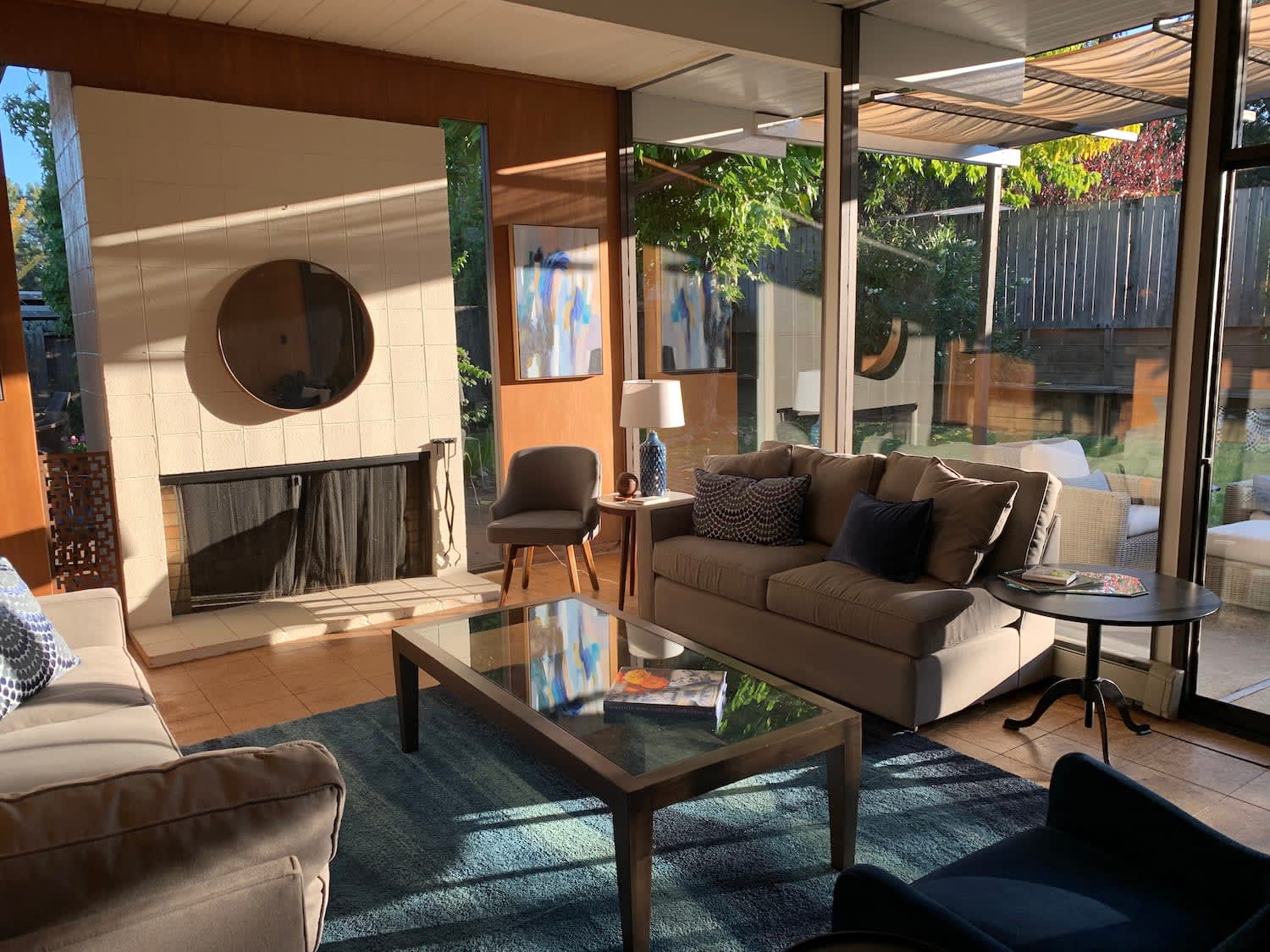 Known for its romantic look and abundance of light, the
mid-century modern
is known for its large windows, flat panes, and open floor plans. These houses are designed to integrate with nature and allow easy outdoor access. For example, the sliding doors open to the backyard, and the windows provide outside views.
Bungalow
Bungalows
traditionally are street-facing gables with shingled roofs, open porches, and arches. They are usually one-story homes. Additionally, you can find a lot of variety in the bungalow style: craftsman bungalow, California bungalow, Tudor Revival, and Prairie. Inspired by an architectural style in Bengal, India, this design quickly caught on in England and, eventually, the US.
Traditional Ranch Home
With their low roofs, wide eaves, and simple style,
the traditional ranch house
is a popular style among many. This design grew in popularity during World War 2 as it was very easy to build. Soldiers who returned home from the battlefront flocked to these ranch-style homes and settled down here with their families.

Known for its low-to-the-ground build and open floor plan, this style of home is perfect for large families who enjoy the simpler things in life. With their wide windows situated along the front of the house, low roofs, and large patios, the traditional ranch design is typically rectangular or U-shaped. While the sizes and shapes can vary, these houses often come with a finished basement and garage.
Contemporary
While
contemporary architecture
encompasses a lot of variety, there are some similar distinguishing features that make it stand out from other designs. These can often look quite different from the outward appearance, but they share common themes, including strong linear lines and geometric shapes.

The modern contemporary house provides a clean-cut vibe with its sharp, contrasting materials and brightly colored doors. From its updated feel to a minimal style, this type of house typically has an open floor plan with plenty of space to move around and dramatic windows that give the house an airy feel. While the contemporary style might now be for everyone, it is considered modern and is known for its fantastic functionality and dynamic simplicity.

With its straightforward style, lots of glass, and clear-cut edges, contemporary architecture began sometime in the later half of the 20th century. This building style occurred most notably during the 1950s to the 1970s. These houses represent an era when many modern and progressive ideas were being embraced. Builders and architects were seeking to reflect this new sense of style, innovation, and experimentation in the houses they made. The contemporary style has many inventive details, flat or low pitched roofs, and contrasting material types in its make-up.
Victorian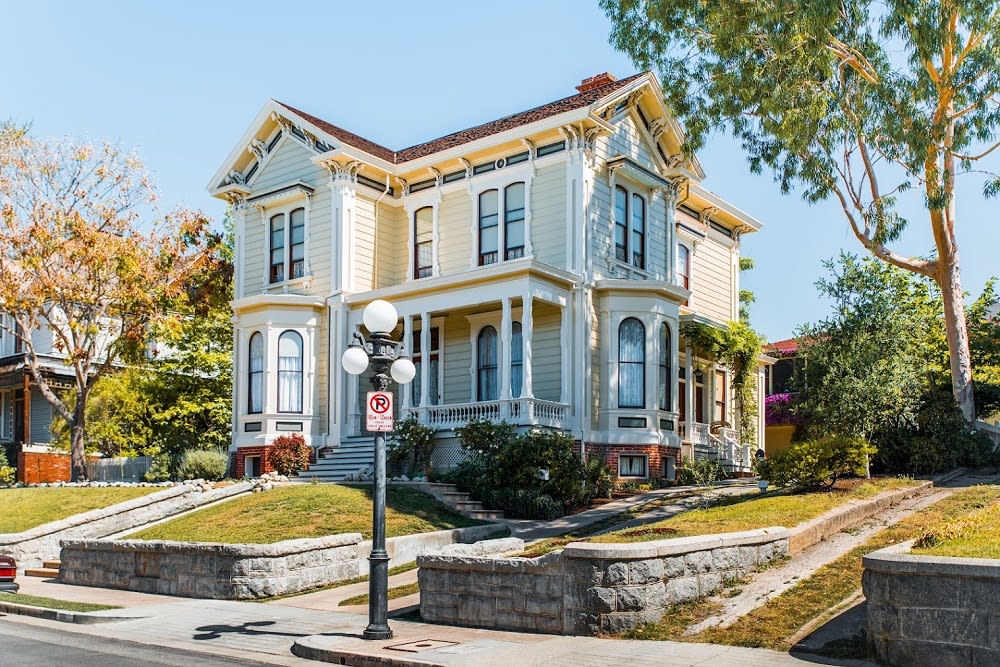 When you drive through Napa Valley, you will discover an array of beautiful and romantic victorian-style homes. With its picturesque aesthetic and regal qualities, this style often resembles a dollhouse. From their ornate features to elegant design, these houses are a favorite among people from all walks of life.

Paying special credit to Queen Victoria, the Victorian architectural style emerged in popularity from 1830 through 1910. In England, any homes built during her reign were generally considered Victorian in their design. Some Victorian styles encompass Gothic Revival, Folk Victorian, Shingle Style, and more.

Some common characteristics include the house being two to three stories, gabled roofs, intricate woodwork, and vibrant colors. It has long, sweeping windows with shutters as well as detailed balconies and large porches. On the inside of the house, you will discover closed-off rooms, ornamental designs, and intricate trim. The ceilings are tall as well. With its romantic and beautiful appearance, the Victorian house draws inspiration from its vibrant past and remains a classic style today.
Are you looking for more information about Napa Valley real estate? Feel free to contact
Carolyn Roberts Real Estate
for all your Napa house, luxury condo, or real estate needs. Our team would love to show you some homes and townhouses for sale in our locations. Let's get started today in helping you find your perfect dream home!

*Header photo courtesy of Carolyn Roberts Real Estate